Description
TWINSTAR B Line (Version I) WRGB LED Series Light – Entry level high end aquarium lights to bring your aquarium colors to life.
Description:
The Twinstar B Line may be an entry level LED but it is still considered a high end Twinstar LED, with it's bright white LEDs, and vivid RGB LEDs. It has ideal clarity, natural colors, and improved design. The new Twinstar B Line are beautifully completed with a modern design sensibility with a hairline metal surface and the highest level of metal processing technology.
TWINSTAR III B Line Series LED Light is the most budget-friendly line offered. This particular line is great for those who are interested in a light-weight, slim LED unit for their low-tech planted aquarium or fish-only aquarium. The Twinstar B Line will display aquatic life beautifully and is suitable for growing low light aquatic species such as Anubias, Bucephalandra and Mosses. Check below for light specifications and tank recommendations. Please ensure that you double check measurements to ensure the light will fit your aquarium. Warranty – 2 years from date of purchase subject to manufacturing defects.
| | | | |
| --- | --- | --- | --- |
| Model | Aquarium Size  | Glass Thickness | Brightness |
| 30B | 30-40cm/1 feet tank | 1-10mm | 679lm |
| 45B | 45-55cm/ 1.5 feet tank | 1-10mm | 1217lm |
| 60B | 60-70cm/ 2 feet tank | 1-10mm | 1741lm |
| 90B | 90-100cm/ 3 feet tank | 1-10mm | 2528lm |
| 120B | 120-130cm/ 4 feet tank | 1-12mm | 3166lm |
Detailed Specification: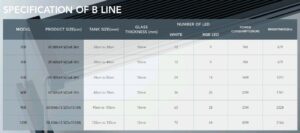 Packaging sizes: 30B (item no. TS30B), 45B (item no. TS45B), 60B (item no. TS60B), 90B (item no. TS90B) and 120B (item no. TS120B)